team development, coaching and mediation
"The three words that really inspire me are: empowerment, empathy and effectiveness"
Facilitator, (executive) coach and professional sparring partner with a background in the international corporate world.
After completing my studies in Law, I started work as a management trainee in marketing at Unilever. The professionalism of the company, the multifaceted nature of the marketing role and the international opportunities really appealed to me. With some effort, I succeeded in being posted to Brazil, together with my husband, who was working for another Dutch company at the time.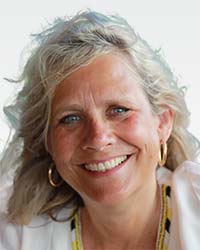 In the years that followed I worked for various multinationals and smaller companies in Hong Kong and Thailand, which really shaped me both in the business context and also more broadly. For me, the most decisive insight I gained at that time is the fact that, whatever approach is taken to a course of action, it is the cooperation and activity of people that is all-important for the success of any change or project. Awareness opens the door to changes in behaviour and mindset.
After the birth of my three children I was confronted with the true extent of the challenges involved in the centuries-long quest for balance in a woman's life. Being diagnosed with, and eventually beating, breast cancer added even greater complexity to the combination of family, health, work and ambition.
I'm extremely happy with the next step that I took in my professional life at that time: working for a consultancy agency in the field of change management.
With all the experience that I had gained during that period, and keen to start my own venture, I established The Star Ferry, from where we have now spent many years working, with great enthusiasm and fulfilment, in change management and coaching.
The Star Ferry is a network of professional and experienced coaches who are all trained in and work according to the system of Transformative Coaching. All our mediators have been trained at NMI affiliated institutions.
The Star Ferry encompasses a network of professional and experienced coaches who work according to the Transformational  Coaching system. Our mediators are all affiliated to the NMI.